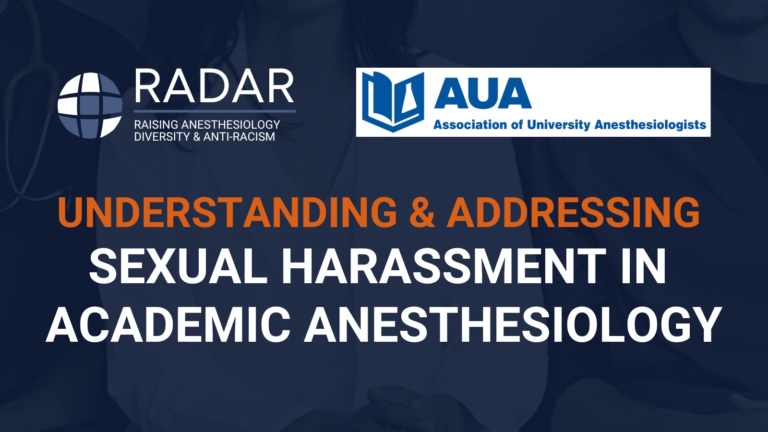 Understanding & Addressing Sexual Harassment in Academic Anesthesiology
Wednesday, March 22, 2023, 7 p.m. EDT
Zoom Webinar
1 in 2 women faculty in anesthesiology have experienced sexual harassment — the highest reported rate among academic medicine departments — according to the AAMC's first-of-its-kind report on the prevalence of sexual harassment among U.S. medical school faculty in the workplace.
Join lead author Diana Lautenberger, M.A., RADAR, and the Association of University Anesthesiologists for an important discussion on sexual harassment within the field and what practices we can put in place to prevent harassment.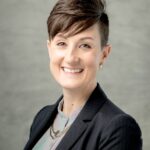 Diana M. Lautenberger, M.A.
Director, Gender Equity Initiatives
Association of American Medical Colleges
Diana Lautenberger, M.A., manages the AAMC's gender equity portfolio as the director for gender equity initiatives to integrate gender equity approaches across the association's missions and work. The GE portfolio includes research, education, and projects to promote equitable working environments as well as developing resources for marginalized populations in academic medicine. Examples of current projects include Women of Color and Intersectionality, the Gendered Impact of the Pandemic, Salary Equity, and Sexual Harassment in Academic Medicine. The GE portfolio takes an intersectional and gender expansive approach to addressing gender equity issues in higher education and STEMM fields. Ms. Lautenberger serves as a faculty member for the AAMC's leadership development seminars for early and mid-career women as well as a workstream lead for the AAMC's Strategic Action Plan #3 – Creating Safe and Inclusive Environments. Ms. Lautenberger approaches her work through a deep connection to equity with the goal of radically changing society's patterns of injustice by challenging the status quo.
Ms. Lautenberger is part of the AAMC's integrated team dedicated to unconscious bias training and education, trained and certified from the diversity and inclusion consulting firm, CookRoss®, as well as a certified Green Dot® Bystander Intervention trainer. She provides in-depth implicit bias, microaggressions, allyship and bystander intervention training to faculty, staff, and allied health professionals.
Prior to her current role, Ms. Lautenberger managed the Group on Women in Medicine and Science (GWIMS) and the Group on Diversity and Inclusion (GDI), collaborating with faculty, staff and leaders at academic medical centers to advance diversity, equity and inclusion. In previous positions at the AAMC, she was responsible for various leadership and workforce engagement initiatives aimed at faculty development. Responsible for curriculum design and implementation, she oversaw two leadership development programs for faculty aimed at aspiring leaders, department chairs, and associate deans to equip them with leadership skills needed to deal with the impending changes of the academic and healthcare environments.
Ms. Lautenberger holds a master's in art education with a focus on curriculum design and creative thinking as a driver of equity and a solution to address systemic oppression. She is part of several organizations in the D.C. area who use artistic expression to explore concepts of racism, sexism, and social justice.
Advice on Residency Interviewing
October 26, 2021
Residents from across the country discuss why they chose anesthesiology and offer tips on preparing for the virtual interviewing season and evaluating a program's culture and commitment to diversity, equity and inclusion.
Panelists:
Ottavia Green, M.D., moderator: PGY-3, Washington University School of Medicine in St. Louis
Kelly Foster, M.D.: PGY-4, Stanford University School of Medicine
Anderson Lee IV, M.D./MPH: PGY-1, University of Michigan Medical School
Chideraa Ukeje, M.D./MPH: PGY-1, Washington University School of Medicine in St. Louis
Why We're Here: Increasing Diversity in Anesthesiology
March 31, 2021
The RADAR Virtual Launch Event featured a panel discussion on the need for greater diversity within the field. Panelists:
Allison Mitchell, M.D., Associate Program Director for Residency and Assistant Professor, Washington University in St. Louis
Peter Knoester, M.D., Anesthesia Practice Consultants and Grand Rapids African American Health Institute Advisory Council
Brittany Ervin-Sikhondze, M.D., Anesthesiology Intern, University of Michigan